Candlelight Lodge Bed and Breakfast a B&B, since 1986, is one of the largest and oldest bed & breakfast in Chautauqua County. Originally Candlelight Lodge was a prominent home built in 1851 by James Hinckley who owned much of the eastern half of the village of Westfield. Candlelight became a Lodge in the 20's and a B&B in 1986. Candlelight Lodge along with the recent historic addition of the Captain Storm House (2000) has a position of special consideration and importance on the National Register of Historic Places. Candlelight Lodge is located in the center of Westfield, New York, the only B&B within the village.

Candlelight Lodge suites all have private baths, DirecTV with premium channels, Wi-Fi, AC, desks, mini refrigerators, coffee machines and microwaves. Our Country Inn can accommodate an extra guest in three of our seven suites. The Renaissance or Oak Suites allow for a special price for the adjoining Lincoln bedroom with a second bath. Rebecca's Suite offers an additional bedroom within the suite for an additional guest. Four of our larger B&B suites are appropriate longer term vacation rentals for 3 nights at a reduced rate or by the week at a further reduced price with no NYS sales tax (8%). These suites are small efficiencies with mini-kitchens, sitting areas and private baths, also ideal for the business traveler. Four of our suites have real fireplaces with gas log inserts and there are three additional fireplaces in public areas.

Our Country Inn is nestled in the center of Westfield on two landscaped acres of lawn and trees. Candlelight Lodge has 13' ceilings upstairs and down, spiral walnut staircases, interior columns, inlaid floors and magnificent 10' arched windows with outside cast iron appointments. Candlelight Lodge Bed and Breakfast has a large parlor and a reception room, each with 10' French doors opening on to cast iron balconies. There is also a formal dining room and a more private sun room. On the west side there is a large formal covered patio and on the east side an additional large open patio, each with cast iron appointments. There is also a private porch and entrance for our premiere Mary Jane's Suite.

Westfield NY is known for its historic architecture, antique shops, wonderful restaurants and wineries. Guests of our Chautauqua B&B can walk to the Village Park and many unique shops within a couple of blocks. Within one block are convenience stores, banks, a full service grocery store, fast food, medical center, post office and pharmacy for additional needs. There is also Westfield Memorial Hospital two short blocks away. The Chautauqua County McClurg Museum and the Patterson Library which houses the Octagon Art Gallery are well known and are also two blocks away. Each of these buildings is an architectural wonder offering the history of Chautauqua County and its oldest community, Westfield. Several choices for dining can generally be found within a few blocks to a few miles of our Country Inn. There is also during the summer an award winning Farmer's Market Saturday mornings in the Village Park, two blocks. One mile from Candlelight Lodge you might also enjoy Barcelona Harbor on Lake Erie with the oldest gas light house on the Great Lakes. Take a walk on the Daniel Reed Pier.

Five major wineries are within four miles of our two Country Inns with wine tasting. There are many special wine weekends throughout the year in Chautauqua Lake Erie Wine Country. All 25 wineries are within 20 miles along the Chautauqua Lake Erie Wine Trail. One mile west from Candlelight Lodge on Route 20 is the New York State Grape Discovery Center, with the history of the largest and oldest concord grape growing area in the world. The Discovery Center offers tastings and gifts. One mile west on Rte 20 from Candlelight Lodge is also our Landmark Acres Antiques offering fine quality antiques, "special pieces for special places".

Enjoy travel around scenic Chautauqua Lake, 5 miles away. Chautauqua Institution, 15 minutes from Candlelight Lodge on the lake is known around the world for its summer cultural programs with concerts, lectures and famous entertainers. In nearby Fredonia NY (16 mi.) is SUNY at Fredonia and the Fredonia Opera House. Jamestown NY (25 mi.) has the Lucy-Desi Museum, the Roger Tory Peterson Institute, the Audubon Nature Center and Sanctuary, the Fenton Museum and the Robert Jackson Center. Lastly, there is Lily Dale on Cassadaga Lake (20 mi), the largest gathering of mediums and spiritualists throughout the summer in the country.

Directions: Candlelight Lodge Bed and Breakfast - 143 East Main Street - Westfield New York 14787, Exit 60, Westfield NY on I-90 on Lake Erie - left (south) on Rt. 394, left on Rt. 20 (Main Street) our Chautauqua bed and breakfast is 1/2 mile on the left - 5 miles South on Rt. 394 is Lake Chautauqua New York and Mayville NY, 3 more miles south around Chautauqua Lake is Chautauqua Institution and Chautauqua NY. Westfield New York is less than two hours from Cleveland, Pittsburgh, Buffalo, Rochester, and Niagara Falls
Captain Storm House Vacation Rental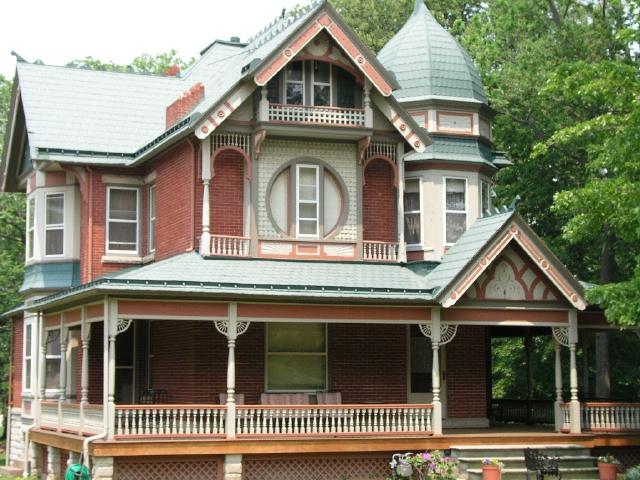 The Captain Storm House
An Historic Vacation Rental
145 East Main Street
Westfield New York 14787
Telephone: (716) 326-2830
The Captain Storm House with the assistance of the National Historic Trust, NY State Preservation Office and the Landmark Society of Chautauqua County was saved from demolition, moved to Candlelight Lodge B&B in 2000, fully restored and opened in 2004 as an extended stay Vacation Rental. Our Chautauqua Inn offers the house for two, three or four couples. The Captain Storm House is an historic addition next to our Chautauqua Lake Erie Candlelight Lodge Bed and Breakfast in Westfield NY designed by the nationally known architect George Barber.
The Captain Storm House is nestled in the middle of Westfield on Route 20 and in the heart of Lake Erie Wine Country. The Captain Storm House is a brick Queen Anne revival home built in 1892 by a northwest coast retired sea captain who enjoyed both Lake Erie and Chautauqua Lake and designed by the nationally known architect George Barber. As a Country Inn, it is ideal for a two night minimum or a longer term Vacation Rental for three nights or by the week at a discount. The Captain Storm House has four spacious bedroom suites each with modern Kohler baths. There is a 75 foot private wrap around front porch and small private back porch for morning and evening enjoyment. Our Vacation Rental is architecturally significant with its unusual exterior appointments and exquisitely finished interior. For your enjoyment the Inn has a large country fully equipped kitchen, private suites each with queen size beds, large modern Kohler garden tub & shower and fine antique furnishings. For entertainment there is a double parlor, library and formal dining room. The Captain Storm House has paneled walls, pocket doors, coffered ceilings and two carved fireplaces with each of the main rooms of the Inn displaying a different light figured wood - curly cherry, sycamore, quartered oak, chestnut, figured maple and pine.
The Captain Storm House allows two, three or four couples to rent the House for two or more nights as a Vacation Rental each at a reduced special price and by the week with no 8% NYS sales tax. If you choose two suites you may add the third or fourth suite if available for a further reduced price before your arrival, and now enjoy exclusive use of the house. The Captain Storm House is less than five miles from Chautauqua Lake and 15 minutes from Chautauqua Institute. With its location in the center of Westfield next to Candlelight Lodge on two acres, the Captain Storm House has many advantages. (see Candlelight Lodge above)
Landmark Acres Antiques Inventory pg 2
Landmark Acres is the oldest settled property (1802) in Chautauqua County, Western New York and has a prominent listing on the National Register of Historic Places. Chautauqua County celebrated its 100th anniversary (1902) on the front lawn of Landmark Acres as well as the bicentennial celebration in 2002. Landmark Acres Antiques is located in the oldest building, a 5000 sq. foot barn on the oldest Farm in Chautauqua County, now a grape farm in the heart of the Chautauqua Lake Erie Wine Trail.
Landmark Acres Antiques has been a Westfield New York antique shop since 1946 and has grown to be one of the larger and older quality antique shops in this part of the country. Landmark Acres Antiques offers for the discriminating buyer 18th, 19th, and early 20th century country and formal American Furniture (1720 to 1920), with a few European and Asian pieces. We also offer art, oriental rugs, china, porcelain, jewelry, coins, silver, books, paintings, a large selection of early lighting, aesthetic movement, art nouveau, arts and crafts, and decorative accessories.
In recent years the internet has brought us many new customers from around the nation through our website, both buying and selling. We have been able to purchase many special items from private homes in NY, Pa and Ohio, some of the older families in this part of the nation during the 19th and early 20th Century. Antiques are arranged in room settings and everything is priced with a detailed description of most major pieces. You may also find that our antique shop inventory is helpful in determining the value of pieces you already own. We do no shows, do not sell on Ebay and do not send anything to auction. Please visit, you can carefully examine an item before purchase. We buy all antiques outright and sell through our shop and website. Since we own all antiques we also offer a detailed return policy on your receipt. We are always interested in buying antiques of quality. Currently we are interested in purchasing gold and silver - jewelry, watches, sterling and coins.
Directions: Landmark Acres Antiques - 232 West Main Street - Westfield NY 14787, Exit 60, Westfield NY on the New York State Thruway (I-90) along Lake Erie, left (south) on Rt. 394, right on Rt. 20 (Main Street), Landmark Acres Antiques is half a mile on the left - 5 miles south on Rt. 394 is Chautauqua Lake and Mayville New York, 3 more miles south along Chautauqua Lake is Chautauqua Institution. Landmark Acres Antiques is one mile west on Route 20 from Candlelight Lodge.